It's time to recap March 2023 and all the good things that came throughout the month. Honestly, March was a quiet month. I didn't have a busy work month, which could be better when running a small business. I had the opportunity to spend more time with family, work on other projects, and take much-needed rest. I ran my last half marathon of the season and achieved a mega goal. All in all, March was a great month. 
What's up with the running and wellness?
Physically and mentally, I haven't felt this strong in a long time. For the first time in a long time, I've felt fit (yet still tired) and ready to tackle all the hard things. I ran The Woodlands Marathon Half Marathon and met my goal of running faster and more thoughtfully throughout the race. Finishing that race was a proud moment for me because this was the first time in a while that I set a running goal and worked toward it. 
I've decided not to run another half marathon for a while and focus on building a stronger 10K time. I lacked half marathons at the beginning of the year because the timing never worked out. I will keep my mileage up to be strong for the next half I choose to run. I thought about running a half in May, but after the horrible experience of last year, I opted for the 10K. 
I didn't cook any new meals, but I continued meal prep. I made my last round of chili for the month. Also, I may be struggling with sugar, but for the most part, I'm trying to keep my sugar consumption under control.
My Hotworx classes are still fitting nicely into my training. I am trying new classes every week to see what classes work best for me. I've been enjoying a Sunday morning yoga session, which sets the tone for the day. I'll write a full review of my Hotworx experience, but I want to try more classes. I am a creature of habit, and I'm trying to go outside my comfort zone.
I finally honed in on the content I wanted to create.
Content creation has always been a sticking point for me, so I have yet to be more consistent. I have to start creating content around the things I love and want to discuss to make it easier. That's obvious, but I struggled to pivot into this realm. I was unsure in the past, but my future will be vital.
I've been focused and ready to create content this month. My content will focus on running, productivity/routines, reading, and general lifestyle. I will post my running and productive things here, and I've started my book blog elsewhere. I will mention my books here, but it's more in-depth on the other blog.  
Is it true it takes 21 days to build a habit? If that's the case, I'm on the road to hitting my 21 days. I want this to become a seamless part of life. Things will be challenging, but I want to make them a habit. That also means I need to learn how to make TikToks and Reels.
What I read in March
I had a strong reading month in March. I had a slow February, so it was nice to get excited about reading. I read some excellent books that I am willing to recommend. No duds in March, and I hope that carries over into April. For a more in-depth look at my March reading wrap-up, visit my book blog!
Meet Me in Margins

by Melissa Ferguson. It's a non-spice romance book, and it s workplace romance. Savannah needs help writing her book and finds support in an unexpected place. 

Five Survive

by Holly Jackson is a YA thriller where friends are forced to reveal their secrets to survive the night. 

Finlay Donovan Jumps the Gun

by Elle Cosimano is the third book in the series, and people still think Finlay is a hitman. Things accidentally happen to make people believe that she is. 

The Highland Fling

by Meghan Quinn is a typical grumpy sunshine romance and follows the basic romance novel format. Cute, fun, and a quick read. 

Malibu Rising

by Taylor Jenkins Reid is a must-read. Reid has a way of telling a story and is a master at historical fiction. I haven't loved all the characters she's featured, but I've loved how she tells a story. 

Ender's Game

by Orson Scott Card is my first dip into science fiction, and I don't want to go too deep into this because I did a reading vlog on this book. But I surprisingly liked this book. 

Magnolia Parks

by Jessa Hastings is a contemporary fiction book that shook me. I've had plenty to say about this book. It's a childhood friend-to-lover situation, but a bit more. It's an interesting character-driven story.

Six of Crows

by Leigh Bardugo is a YA fantasy heist story. It's connected to the Shadow and Bone series, but reading it to like this book is optional. If you love a heist, you'll like this book!
Other highlights of the month: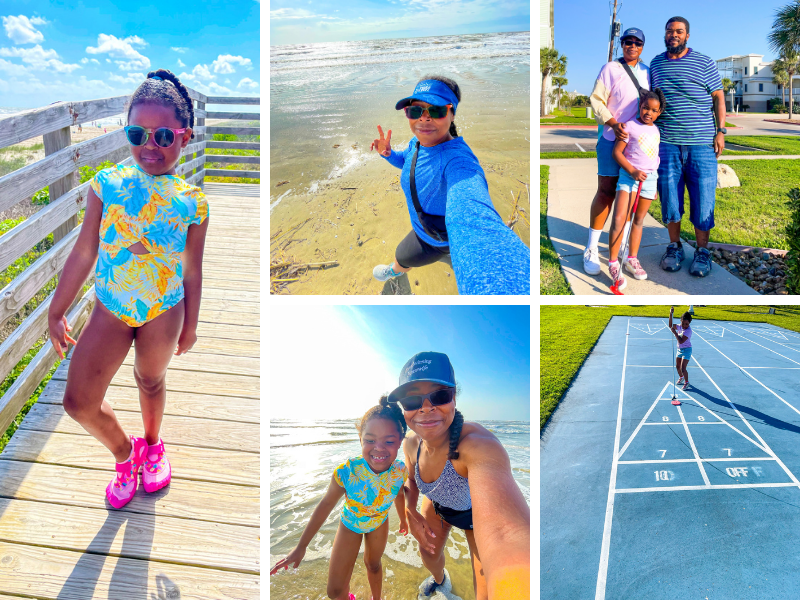 We spent spring break close to home with a beach vacation in Galveston. We stayed in an Airbnb, which was also part of a timeshare, so the timeshare hassle was intense. I know nothing about timeshares except people always try to get out of them. We enjoyed the space and all the activities available. I'm all ears if anyone wants to share some knowledge with me on the whole thing.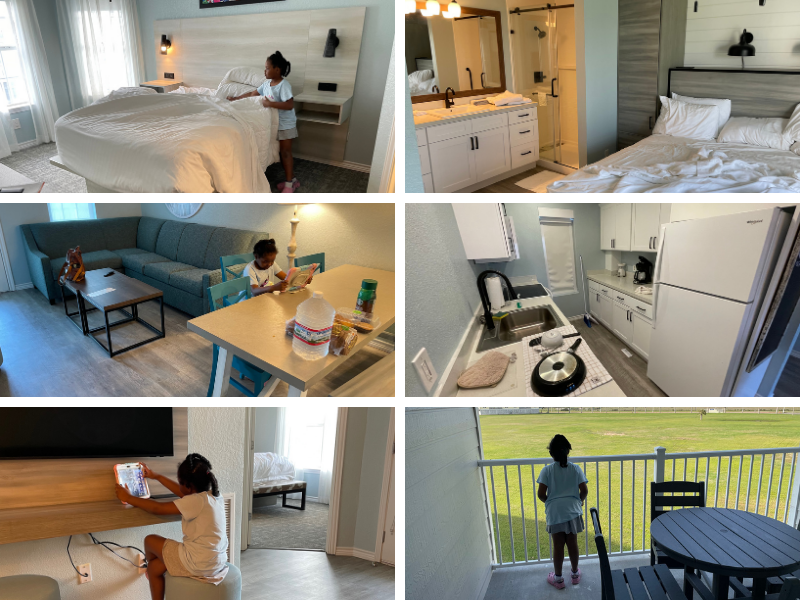 We had ample room for three people in a two-bedroom, two-bathroom condo.  We had an entire living space and kitchen area.  The only downside was that did not have a washer and dryer in the unit and no laundry on-site.  But we could walk (or drive) to the beach, and we had access to the clubhouse, a pool, and other amenities. It was a great time, and we weren't ready to leave vacation for the first time in a long time. We will return to Jamaica Beach, TX because it was a great time. We stayed at the Holiday Inn Vacation Club Seaside Resort and highly recommended it for a great family setting. There were a lot of kids, which was great for Tot because she had other people to play with all the time.
I randomly decided to trade in my car. I got a new car, but it looks like the old car, just fancier. I have reasons for getting a new car, and I'm glad I decided to jump on the new car. It's a learning curve because it's the same car but different. It's an odd feeling. Tot seems to like the car more, too! I purchased my old car through Carvana and got my new car through them, also.  The process was simple, and I had no problems.  I picked out my car on Friday morning, which was at my house on Monday afternoon.
We continue to have our coffee dates on Saturdays.  The South Texas State Fair came to town, so Tot rode all the rides, and I ate a funnel cake and something called Hog Daddy fries. Tot is sailing through kindergarten.  I can't believe the year is almost over.  She's come a long way this school year.
It's been a fun start to the F1 season.  It's nice to see Fernando Alonso on the podium. I've been an Aston Martin fan, but they haven't been in the mix until now.  As much as we talk about a car, it's also the driver.  Alonso is driving that car until the wheels come off!  I have definite opinions about what is happening.  Does Checo think he could be the champion?  Because Max didn't seem too happy when he won that race.  I wanted Mercedes to dominate, but the team still seems steps behind.  McLaren, what is going on?  They spent so much money getting rid of Danny Ric, and they needed to develop the car.  Would they have been better off with his help? Ferrari is starting the s#!t show early, which is what we should expect from them.
What I could have done better:
I always like to mention the things I could have done better; the only thing I can think of is getting more sleep. I had horrible sleep during the month due to stress. I handled stress well, but it did manifest in my sleeping patterns. 
Videos for March:
Blog posts for March:
Updated tips for attending F1 USGP General Admissions seating
Simple things I did to change my running mindset
That's a wrap in March. It treated me kindly, and I hope the energy stays in April because it will be busy. I'm looking forward to all the great things to come. Thanks for reading and following along.  I appreciate everyone who stops to read this post.  Don't forget to comment.
How was your month?  What was the best part of March for you?  What is something you could have done better?