The new Formula 1 season is underway, and the tickets are selling fast for all the grand prix races this year. I will be attending the F1 USGP in general admission again this year, and I want to help you out if you're going to the grand prix for the first time.  I am updating my previous post on tips for general admission at the F1 United States Grand Prix at the Circuit of the Americas in Austin, TX. There are some things I would like to add to the list, but that post is still relevant. Start there and then come back to read this.
Things will be different in 2023 because Austin has been selected for a sprint race! That means all three days will have more people than normal fighting for the best general admission seats.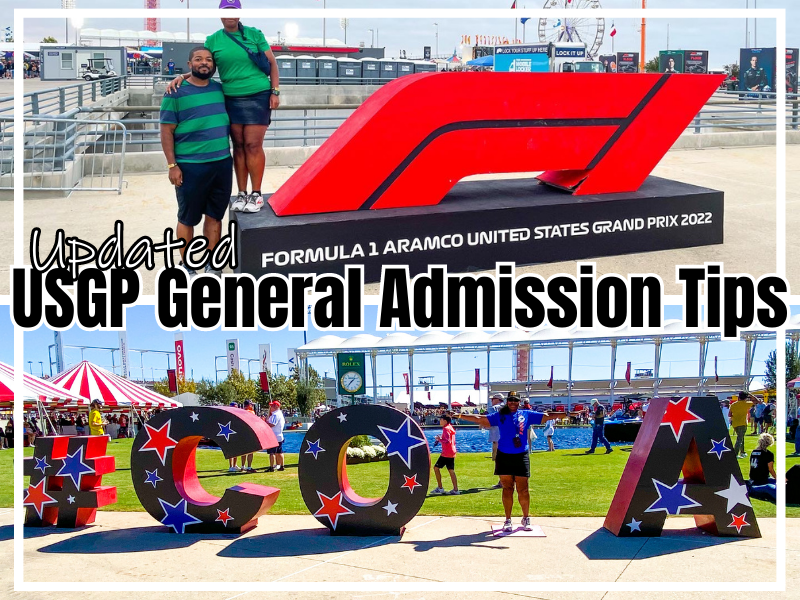 Helpful tips for attending the Formula 1 United States Grand Prix:
Secure your tickets now. I know a two-day general admission ticket was released not too long ago for $425, and the three-day general admission ticket is $475.  I get asked all the time where to buy tickets.  The best place to purchase your tickets is through the COTA website via Ticketmaster.  This way, you know you are getting legit tickets and won't have a problem.

When the shuttle tickets go on sale, buy them. I waited until the last minute (three weeks before), and all the shuttle tickets were almost sold out. There are shuttles from Downtown Austin, Barton Creek Mall, and the Travis County Expo Center. You need to pick the right shuttle, depending on your stay. The Downtown shuttles are the only shuttles to drop off at the central plaza. If you take the other shuttle, you must walk about a mile to the front gate. I preferred walking because the grand plaza shuttle lines were long, blocked, and confusing. The walk was alright and only took us 12-15 minutes.  

Buy your merch before you get the circuit. I paid $85 for a hat; I could have purchased it online and had it shipped cheaper. I know that's only for some, but the merch is very expensive at the race. I understand there are special releases you may want at the race, but most stuff will be available online, and you'll get it fast.

Wait by the tunnel at turn 1 to see the drivers come in. Make sure you stand on the correct side of the street, though. I saw Lewis Hamilton coming in, but I was on the opposite side of the road, and he took pictures with people on that side.  

Bring your Hydroflask or other metal water bottles. The rules say not to, but I saw tons of people with them, and I was envious because they probably had cold water. I saw people bringing sandwiches, snack bars, and other things. Take the chance, but only bring items you won't be mad if they take them away.  

The food at the front of the circuit going toward turn 1 is basic carnival food and is overpriced. You may be hungry, but keep walking. Closer to turn 1 and 2, the food is much better and reasonably priced for what you get. I fell into the trap of a $20 corndog.

Bring a buff, scarf, or mask to cover your face. Remember I mentioned it was dirt out there? The 2022 race was so windy it became unbearable at some points during the day. I wish I had had a bandana to cover my face.

Pick your spot, and get there early. When the gates open on race day, it's a mad dash. People are sprinting to their spots, and it starts filling up quickly. I'm sure it will be the same on sprint race day. 

We had giant chairs, but carrying those around for three days was hard. I am rethinking my seating and getting a lightweight camping chair. Due to the wind, these lightweight chairs flew around last year, but it's the best bet for transport. Also, chairs are one of many options. People had blankets, hammocks, stools, and blow-up chairs. Don't get pigeonholed into thinking a certain thing is acceptable.

Remember, your feet and shoes will get dirty. If you don't care, this doesn't pertain to you. Otherwise, don't wear the footwear you care about. I'm a sneakerhead, so I'm not wearing my best shoes because they will get DIRTY!

Standing may be understood, but I'll mention it anyway. Your chair is basically for waiting for the race to start. You will be standing up the entire race.  
Honorable mentions:
Don't buy the F1 headphones. It's not worth the money because I couldn't get a constant broadcast signal. I had to turn my back to the circuit to catch the broadcast. Please sit by the speaker and screen if that's what you're interested in. I wish I could get my money back, but I've found them useful for other things besides F1. 

Cell phone signal is nonexistent and gets worse every year. Just be prepared, but we're never ready for this.

A whole carnival, fan zone thing is going on at the circuit. I didn't check it out for anxiety reasons, but it looks fun. A zip line was close to turn one, and many rides were out there for a fee. Give them a try, and let me know how it goes. 
Previous F1 USGP Videos/Vlogs:
These are my updated tips for attending the United States Grand Prix at the Circuit of Americas (COTA) in Austin, TX, in October. Remember to read my previous post about the F1 race and watch my last videos. If you have some additional information, let me know in the comments.
I'm so excited for the new F1 season. Are you going to any races this year?