Quinoa is great and one of my favorite things to eat. I eat a mostly plant based diet so quinoa is a great way to get my protein. Willie is still a meat eater, so this is something I can fix for both us and still be satisfied. I'll just throw some chicken in the mix for him. Best part, low in sodium and very filling! FYI: I don't use the canola oil when cooking. I try to stay away from any oils when cooking, even though they are good fats. I don't think you need oil/butter to cook your veggies and it just adds more calories into your dish. I use green pans that don't require that kind of stuff or when push comes to shove, I just put a little water or chicken stock in the pan.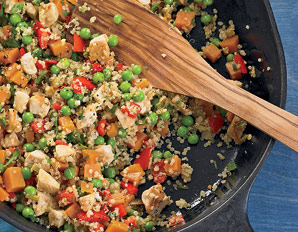 Chicken,Sweet Potato, Quinoa Stir-Fry
Author:
Prep time:
Total time:
Ingredients
1 c water
1/2 c quinoa, rinsed and drained
1 med sweet potato (about 8 oz), peeled and cut into 1/2″ cubes
4 tsp canola oil
12 oz boneless, skinless chicken breast, cut into 1/2″ pieces
1 med onion, chopped
1 jalapeño chile pepper, finely chopped
1 med red bell pepper, chopped
1 clove garlic, minced
1 tsp ground cumin
1 c frozen peas
3 Tbsp chopped fresh cilantro
1/4 tsp salt
1/8 tsp black pepper
Instructions
COMBINE water and quinoa in small saucepan over medium-high heat. Bring to a boil, reduce heat to medium, and simmer until liquid has been absorbed, 12 to 15 minutes.
PUT sweet potato in small saucepan with enough cold water to cover by 2″ while quinoa is cooking. Bring to a boil over medium-high heat and cook until just tender, 3 to 4 minutes. Drain.
HEAT 2 teaspoons of the oil in large nonstick frying pan or cast-iron skillet over medium-high heat. Add chicken and cook, stirring occasionally, until starting to brown, about 4 minutes. Transfer to bowl.
RETURN pan to heat and add remaining 2 teaspoons oil. Stir in onion and jalapeño pepper. Cook, stirring occasionally, 1 minute. Add bell pepper, garlic, and cumin. Cook until vegetables start to soften, 2 to 3 minutes. Stir in peas and reserved chicken and cook 2 minutes. Add quinoa and sweet potato. Cook, stirring frequently, until heated through, 1 to 2 minutes. Remove from heat and stir in cilantro, salt, and black pepper.
Calories:
307
Fat:
8
Saturated fat:
1
Carbohydrates:
34
Sodium:
264
Fiber:
6
Protein:
24
From Prevention Magazine