Hello friends. This blog is late because I couldn't bring myself to recap the week. To say this is a challenging time in the country would be an understatement. It's sad to see people losing friendships and saying NASTY things to each over politics. We can co-exist without making that define them. It's sad seeing people in real life saying things to each other that are damaging. I know it runs a bit deeper than this, but we should be kind and understanding.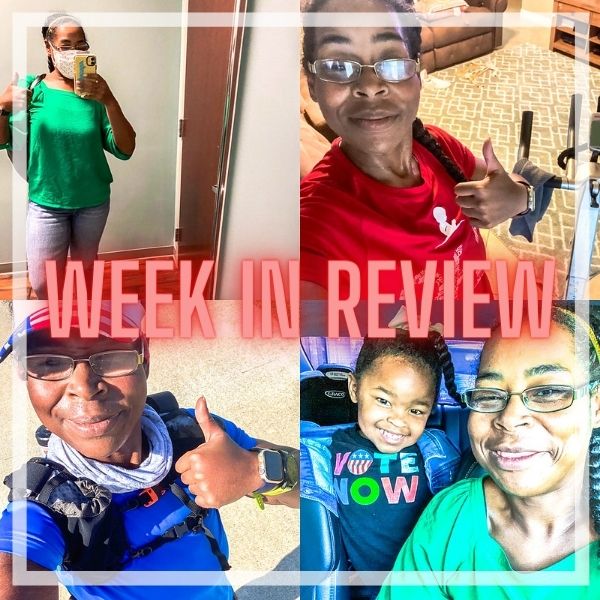 On to the week: I wasn't a good blogger because I didn't take a picture of anything I ate. I received another Hello Fresh box, so that's what I ate all week. 
Workouts this week:
My workouts for the week went well. I decided to push my workouts a bit because I may have been falling stagnant. There were times I made excuses not to push in exercises when I should have just given it a try. I spent more time outdoors run-walking, and my mood greatly improved due to that.
Monday: 3.5-mile walk+run. This was the first Monday I had worked out in a long time, and it was a push to get out of the door. That's the problem with missing your workouts; it's hard to sometimes get back on the pattern. I love working out on Monday to set the tone for the week. It's a mind trick, but it works for me.
Tuesday: Rest day on Election Day.  I didn't work out because I got wrapped up in this, and looking back, I wish I would have done something.
Wednesday: 4.06 walk+ run.  I exercised to relieve stress. I stayed up late on Tuesday watching the election results, but I skipped Tuesday so I couldn't skip Wednesday. It was nice to get outside and get some miles in. I did a 20 minute HIIT run during this workout to push me mentally and physically.
Thursday: Peleton 45 minute Bon Jovi Ride.  It wasn't my favorite ride, but I still enjoyed it. The ride turned out to be a bit tougher than I expected, and I didn't love all the music. Confession: I don't know that many Bon Jovi songs. I like taking these artist's rides to learn some new tunes. This ride just seemed a bit SLOW, and I was counting down until it finished.
Friday: 5-mile walk+run. I usually go longer on Fridays because I have a bit more time. I didn't have as much time as I wanted, but I just needed to get out to clear my head. 
Saturday: 3.15-mile walk.  I took it easy and focused on moving my body instead of having the most demanding workout of my life. It turns out that's just what I needed.
Miscellaneous: 
I got my first mammogram this week. My mom survived breast cancer, and I want to stay on top of this issue. Women's health issues are essential and shouldn't scare you. You don't have to be afraid to get a mammogram. It's better to know than to not know if there are problems so you can catch it early!

I'm working on getting more put together with my outfits. I know this is something I talk about repeatedly, but I have a decent style. I don't always use it. It's easier to go with the comfortable outfit when you're chasing after the child and running late, instead of putting together an outfit. I'm trying to do better more days of the week.

I have three free beverages from Dunkin this week. I might have a slight Dunkin problem.

I felt empowered this week because I changed the doorknob by myself. During quarantine, I learned to do many projects on my own, and I impressed myself. This week I tackled the faulty doorknob. I felt on top of the world. I wish I could get the courage to change my outside lights.

Some people said some racist things to me on Instagram because I shared an opinion opposite of them. That's not ok. We need to treat each other with respect. I will stand up for others who are mistreated, so I need to stand up for myself, also.
Videos this week:
That's all I have for this week.  I'm sorry the post didn't arrive on time, but sometimes better late than never is how it goes.  I hope everyone is having a positive week.  Remember, it's our duty to spread joy and positivity.  And don't worry about the things you can not control.  Let's get together and rise up for kindness.
What is one thing you can do to spread joy this week?