Last week's workouts went well. I tried some new exercises in beginner pilates and strength for runners. People sometimes ask me why I use the Peloton digital app so much. The truth is, I pay for it, so I'm going to use it. I started just using it for my bike to supplement my workouts when I stopped teaching my indoor cycle classes. Then Peloton expanded the app to include new exercises. I love group fitness workouts because I didn't have to think about programming; someone else did the work for me. All I had to do was show up, and the same goes for the Peloton digital app.  
If I had to come up with my strength workouts, I wouldn't do the exercises. I'm not a strong-strength person, so it's nice to have various classes available every day. There are new classes added every day, so I get a variety of styles and instructors.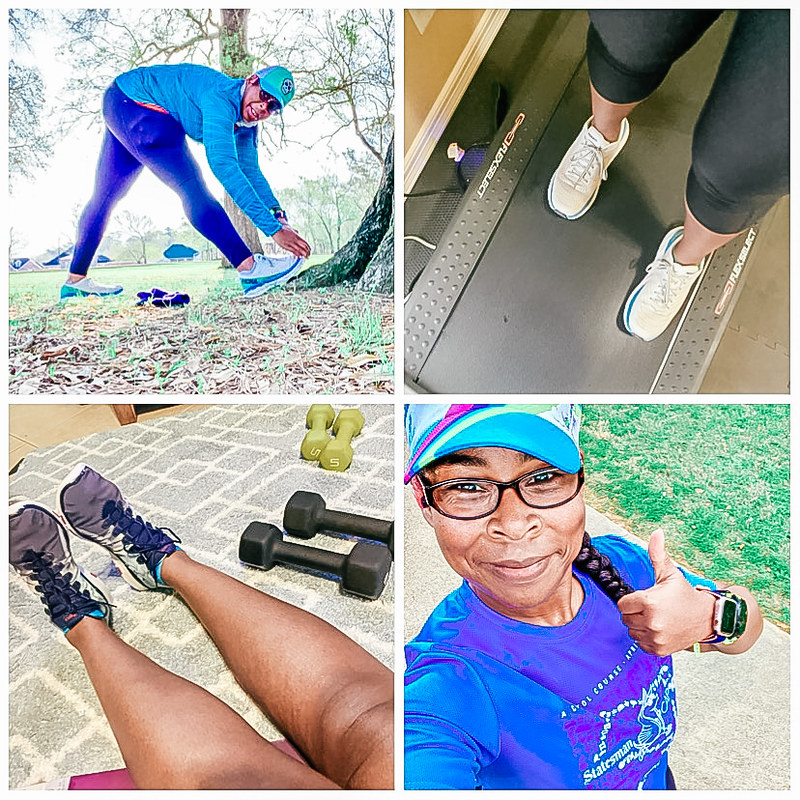 Highlights of the week:
My most significant victory of the week was doing the long run on the treadmill. I woke up early and was able to do my run on the treadmill. The treadmill has been the best investment I've made. I have no excuse not to get my miles done or no reason, not to workout. If you don't know, I'm in training for a virtual 10K (Austin Statesmen Cap 10K) because I haven't covered mileage during the pandemic. I'm using this to gain more focus in my running and to work toward a goal.  
Workout breakdown:
*All Peloton Digital workouts are linked.
Monday: 3.12 easy walk (10 min warm-up walk, 30 min Hip-Hop walk)
Tuesday: 20 mins pilates, 20 min glutes & leg strength, 10 min low-impact ride
Wednesday: 4.20 miles speed work (10 min warm-up walk, 20 min 2010s walk + 20 min HIIT run, 10 min cooldown run)
Thursday: REST
Friday: 7 miles (10 min warm-up run, 45 min endurance run + 30 min endurance run, 10 min cooldown run)
Saturday: 30 min recovery run/walk + 15 min strength for runners
Sunday: REST

Thoughts on training: 
I'm working on incorporating my strength workouts back into my schedule. Strength is the last workout I want to do, so I'm always just tempted to run (on the tread or outside) or hop on the bike. I'm working on changing my mindset about strength work to grow stronger in all aspects of life. The 15 min strength for runners class was one of the best strength classes I've taken, and I will regularly incorporate this into my routine. When you find the classes you like, it's essential to bookmark them to add them to your rotation. I also tried Pilates for the first time and liked it. Pilates will be an excellent workout to do on low-impact days or after a run.
I am pleased with the week of training, and I felt more like myself during the week. I tackled some hard workouts and balanced those with lower-intensity activities. I'm starting to find a balance and a schedule that is working well for me. I am excited to be gaining some mileage back safely to be ready to run a half marathon when I want to run a race. 
Future focuses:
My hips and hamstrings seem tight, which may be contributing to my problems with running. I am going to work on hip mobility and stretching for my hamstrings.
I hope this post helps you structure your workout or find some motivation to go after a goal.