Willie and I made two rules for this race:
1. No one gets left behind.
2. Enjoy the amazing experience.
Leading up to this race, I was worried about finishing in the time limit. When we went to the course meeting and found out only 20 people out of the 110 people signed up last year finished the marathon, I was really worried about finishing the race. That wasn't going to stop me from doing it though.
Race morning was a bit hard on us. I woke up at 11:30 pm to make sure we had all our stuff together. The buses were originally scheduled to leave from another hotel at 2:00 am but was eventually pushed to 3:00am because the road to The Great Wall was closed. We left our hotel at 1:15 am and arrived at the host hotel around 1:45 am. We waited with a few other people. We didn't leave at 3 am though; things were running behind.
The race was supposed to start at 6 am but the buses didn't make it there on time due to the road closures. When we arrived everything felt a little rushed. Everyone was kind of scrambling. I think the race finally started around 7:15 am.
The views were amazing but this was no run. We were running on the ruins of The Great Wall of China. There were traffic jams and long waits. At most points in this race, I felt like I was doing mountain climbing. This terrain was rough. When we finally made it to parts that were runnable, tourists had taken over the path. I wish I could have explained to them we were racing against the clock but when you speak very little Chinese, it was hard. The only thing I could really say was "hi", "thank you" and "excuse me." By the time I was tired, my limited range of Chinese became really bad! It was kind of funny.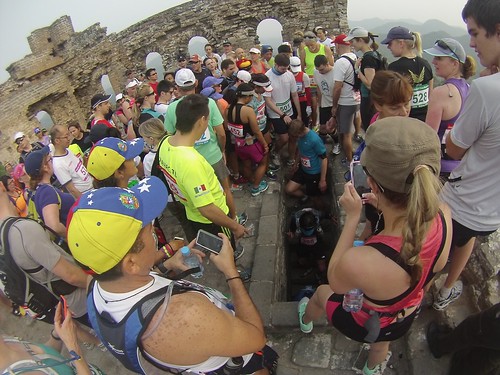 The weather wasn't as bad as anticipated but it was very very windy. Like knock you over off the wall windy! The terrain was rough. Finding your footing was very important and one bad trip could send you flying off the edge of the way in some places. BUT IT WAS BEAUTIFUL. The views were magnificent. All I wanted to do was take pictures.
Willie started off with the GoPro but couldn't keep it up because he needed both of his hands on the wall. Very early on, we knew we weren't going to finish the marathon. About two miles into the race, I turned to Willie and told him, it wasn't happening. We just needed to enjoy the moments. We still pushed on though.
We had 10 hours to complete the race I fully intended on staying out there to see how far we could go. It was wearing on us though and I think it got to Willie. I could see it in his eyes. He wasn't having fun anymore. Most importantly, we were there to have fun and enjoy this experience. I wasn't enjoying the experience but my drive kept me going. I hate quitting and I sure as hell wasn't going to quit!
I didn't want to go all the way to The Great Wall of China and not have a medal to show for it. But I had to acknowledge the rules we set forth before even getting to the wall. When Willie was ready to call it quits, I had to call it quits too. Not just because he was ready to stop but for other reasons too. Willie helped me a lot during the race. He stopped me from falling many times. He helped me climb down some of the steepest parts of the race. He was there to make me laugh a couple million times. He was there to keep me grounded. Most importantly, Willie was there to pull out that epi pen if and when I needed it. And yes, there were a couple of close calls out there. Those were some of the BIGGEST ANTS I'VE EVER SEEN IN MY LIFE. Pushing on without Willie would have put me at a risk for something I may not have recovered from while doing it alone.
The last couple of miles, we met up with a buddy who was struggling. She probably wanted to push me off the wall because I kept talking about getting a medal and wondering if we would still get one if we stopped. There was no way we would finish the marathon but I didn't want to go home empty handed. This was no cake walk. It was a glorified hike with a few spouts of running if you could get around the tourists in some spots! Lots of climbing, lots of scrapped knees, hands, arms, foreheads…whatever body part came in contact with the wall.
In 5 hours, we finished close to 10 miles and it was the hardest 10 miles of my life. It was SO ROUGH but I really didn't want to stop. But the risk outweighed the reward. But we ran The Great Wall of China, and that is more than what most people will do their lifetime. Luckily, this was a race for 5k. 10K, Half and Marathon! We did more than a 10K but not enough for the half which kills me a little bit on the inside.
It was a very rewarding experience that has left me wanting to go back again! I know it won't be next year, but maybe in two years I'll go back to conquer the wall again! We met A LOT of wonderful people with this race!  The drive, the passion and the spirit of adventure was very evident in this group of people!  It was infectious! It's amazing the friends you make when you travel around the world and this is an experience we will all share together!