I had my first Formula 1  (F1) United States Grand Prix 2021 this past weekend at COTA (Circuit of the Americas), and this was the perfect time to provide some tips for attending the United States Grand Prix. It's an experience I'll never forget and I can't wait to go back to the circuit.  Any F1 fan is grateful to have the experience to see a race in person.

Take the shuttles provided from Downtown Austin or Barton Creek Mall. There is no way I would pay for parking at COTA because I would imagine it would be a nightmare to get out of there. The shuttles are $40/day and drop you off at the front gate. It's very convenient to get to the race and afterward the race.

Wear sunscreen, bring sunglasses, bring a hat, and stay hydrated.  

Get there early. We hopped on an 8:30 am shuttle from Barton Creek Mall and arrived at COTA at 9:15 am. We walked through the metal detectors at 9:55 am. It felt like it took forever, but it wasn't a long time of waiting. There was only one medal detector operational on the qualifying morning in our line. I'm not sure about the actual race day, but the staff seemed a bit overwhelmed Saturday morning.

Check the schedule to know what's going on throughout the day. We enjoyed watching the Women's Race Series and watching Danny Ric drive Dale Earnhart's car around the track. Be in the know of what is going on and what time things will start. 

The Grand Plaza is the place where everyone bought their merchandise, myself included. But the Grand Plaza isn't the only place to purchase merchandise. There are many other places along the way which carry just about the same things. It was very frantic with people buying stuff. You don't have to buy the stuff in the Grand Plaza.  

Please don't wait to buy your merch because the later in the day it gets, the longer the lines. That's a big reason to get there early so you can snag the things you want.  

There is a shuttle that transports you around COTA, but it's faster to walk around. There will be a lot of walking on some dirt and gravel paths. Don't wear shoes you care about or open-toed shoes if you don't like your feet being dirty. Also, remember it's hilly out there, so you're going to get your workout in trying to get to your spot.

Food is expensive. Do you want a whole pizza? That will be $42. Bottled water was $5. Beer was $9 – $12, and I didn't even make it to the cocktail line. I bought my beverages from one of the walk around sellers. But I did have some delicious brisket Mac and cheese for $14, which was an excellent price for something out there.

The rules say you can bring one sealed water bottle into COTA. Enforced of this rule seemed lax. People came through with bags of drinks. There were refill stations for your water bottles around the circuit. I also spotted people with their water bottles (hydro flasks and other bottles), which should have been a prohibited item from the list.  
I thought I missed out on my F1 weekend experience when tickets sold out in June, and I did not know they would open up single-day tickets for sale around August. I jumped on my chance to buy Saturday tickets, and then the next day, Sunday tickets opened up. I would have just purchased Sunday tickets instead if I had known. The three-day access is still the best deal, and I will be sure to buy my tickets immediately when ticket sales open up for 2022. But if you're looking to save money, the single tickets are available closer to the date of the race.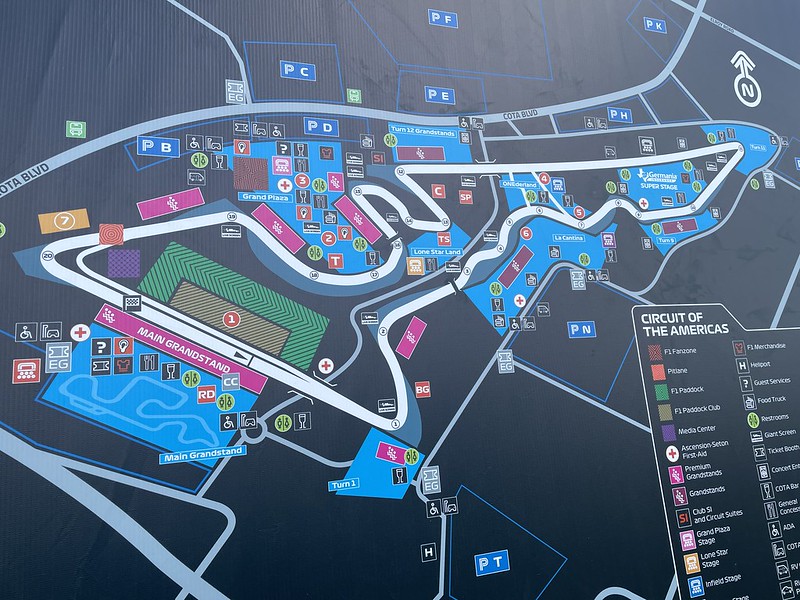 General admission tips:
Ignore the "map" of where you can sit. I didn't find it to be accurate. You need to figure out your vibe before getting to the race, so you know what you want to see the most. You're not going to get a full view of the race track. So you will need to decide if you're going to sit closer to the main grandstand or a higher elevation or around the MOST people. 

There aren't many live screens that are viewable unless you're sitting in a grandstand. That's why they pay the big bucks, I guess. 

We sat at turn 11, which was at the furthest end of the track. My original intention was to sit around Turn 12, but we got lost. It took a minute to get there, but there were "fewer" people out there, and the bathrooms were clear all the time. When I say "less" people, I'm just comparing it to other areas, but it was still a good deal of people. The food and beverage lines were atrocious.

There's no cell phone signal at the back end of the circuit. I thought I would watch F1TV while on track, but the signal would go in and out. Using my phone wasn't an issue closer to turns 7-9 and closer to the main grandstand. Beware, if you sit at Turn 10/11 on the hill, you probably won't use your phone most of the time.

Bring your chair and blanket because you will be sitting on the lawn. You can bring umbrellas, also. Just don't be the a-hole who shows up late and decides to set up their umbrella in front of people who have been seated there all day. 

Enjoy the race and make friends with the people sitting around you. Have fun with people who enjoy the same F1 experience as much as you do. It was nice to interact with other people. 
I hope you find these tips helpful if you're going to the United States Grand Prix at COTA for the first time.  I didn't find much information online about the general admission seating at Circuit of Americas for Formula one, so I wanted to put my tips all in one place.
Watch my video on my experience at COTA for the United States Grand Prix:

Do you have any tips for attending F1 at COTA?  Who is your favorite F1 team and/or driver?