I'm bringing back the five things Friday because it was something I enjoyed but kind of got away from in the past.  This Friday I'm talking about all the places I don't mind eating out without completely blowing my healthy caloric intake.  Sometimes I do indulge but for the most part I'm trying to stay with what makes me comfortable.  When I'm on a road trip or just out and I need to eat on the go these are some places I really enjoy.
Subway.  This isn't a secret.  When I'm on the road and there's nothing I comfortable with eating there is always a Subway around for me to get something.  It's also kind of become a pre-race meal for me.  Pre-race I'll get a foot long sweet onion chicken teriyaki (all that sodium, yo) but on normal days I just get a double chicken breast salad.  This is an easy and cheap go to meal, especially on road trips.  Subways are everywhere.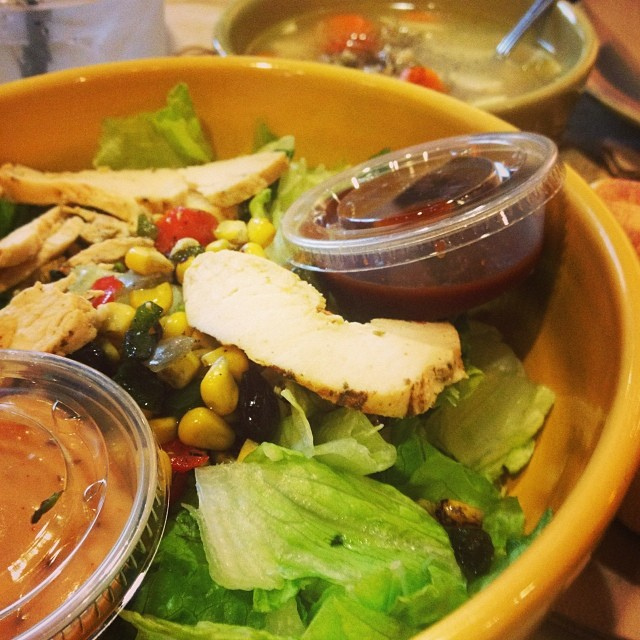 Panera Bread.  I do love Panera and I love bread but my biggest complaint is the food isn't cheap…or I'm just cheap.  The food is good and I know when I want great healthy food that is filling I can come here.  The only hard part for me is not enjoying the bread.  Those rolls they give you on the side are an extra 150-200 calories and they are soo good.  Lately, instead of getting the bread I've opted for a cup of chicken noodle soup which has less calories and is a little more filling.
Chipotle.  Many people complain about this place or that you'll get E. Coli or something from the food.  I'm not informed enough to really talk about that subject.  I do love the food because you can pick and choose what you want.  No bowl has to be the same.  I do stay away from the burrito because that tortilla packs a lot of calories I'm not comfortable consuming but I still get the greatness in a bowl. Sometimes I get the tortilla on the side and just have a little bit of it.  I don't avoid the rice or beans but some days I just don't want the rice and I can choose not have it if I don't want it. Plus, Chipotle is kind of cheap and is a filling meal.  Watch out for that corn salsa though.
When I'm feeling under the weather, I always want should and for some reason I always want pho.  Granted, I know I'm not really eating PHO because I get a chicken broth instead of a beef broth.  I know it's loaded with sodium and it's got a lot of carbs with the noodles, but I really feel like it's a safe bet when eating out.  Besides you can request less noodles or no noodles and double up on the meat.  I usually have chicken and it's so good.  On a cold day, it really will warm me up!  Sometimes I just crave the pho.
Greek/Lebanese food.  This is our favorite thing to eat. No matter where we are we know we can find a good healthy meal with this type of food.  There are a few quick joints we like to hit up like Fadi's Mediterranean Grill (which I know isn't everywhere), Verts Kabob and Garbanzo's.  When going to Verts Kabob be careful about the sauces or get them on the side because that's a quick way to add in some calories.  Garbanzo's is a place I discovered on a visit to Colorado and it was really great.  It's fast Greek food but it's delicious.  We recently discovered a Garbanzo's opened in in Houston so we do go there a lot too.  Greek food is just so good.  I love lentil soup and a chicken schwarma plate.
Pei Wei is also an honorable mention but the service at our local place is horrible so we don't go as much as we use to go.  I guess that's a part of the eating experience, right?  Another honorable mention goes out to Which Wich.  I liked that place but apparently people in our city didn't because it went out business.  We will have to enjoy it when we're on the road I guess.
What are some of your favorite places that you like to eat but won't break your caloric intake?