I'm really excited to tell share with everyone that Willie and I will be on the NBC Today Show on Monday morning. I do believe we will be on the 4th hour of the show talking about our weight loss and running. We are really excited to be able to share our story with more people. This will be a great way to start off the new year.
Today is the last day of 2015 and it's been a learning experience. Ending the year is a time for self reflection and to see how far we've come or didn't. The year started off as a very trying time but somehow I managed to end the year way better than it started. That is what I am most proud of this year.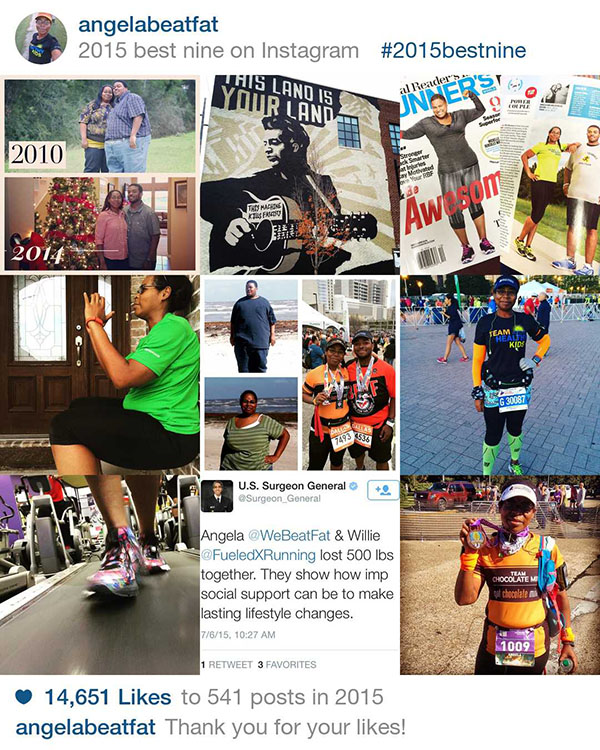 This year I've found my place and a cause I really believe it. I can't wait for the all the great things I get to share with you through Team Healthy Kids. I'm truly passionate about making this world a healthier place and bringing awareness to such a great cause. Action for Healthy Kids is making a America healthier by providing children and adults education and resources to make the healthy choice. To help spread the word about the cause, I would like to get people to run a marathon with me this year in Chicago and/or New York City with Team Healthy Kids. Is running a marathon on your bucket list? Or do you just want to run for a great cause? Here is your chance to run with me.
My first full year of my quest went really well. I completed my 15th state this year. I've reached new fitness goals with running a few ultra marathons and just being able to run all those marathons this year. The quest is much more than running it's about getting out there and enjoying life; meeting new people and pushing past my comfort zone. I can honestly say I met some great people this year and I can call some of those new people friends. I'm definitely learning to communicate and have conversations with others. I know it sounds like a weird thing, but I'm usually the person to stand on the side.
This year I was able to share some of my knowledge with a lot of people. I've been able to motivate and inspire people by sharing our story. AND I've been inspired by hearing your stories too. Conversations can truly change your world and I'm honored to be able to have those conversations.
This year I've grown as a fitness instructor. I'm coming on my 3rd year of being a fitness instructor and I've really enjoyed this year. It's not glamorous but it sure is nice to be able to help people reach their fitness goals. It's a rewarding experience and I'm glad I was randomly plucked from the crowd to teach. I'm wicked excited to keep growing and improving.
Most importantly, this year I learned that I'm a constant work in progress. There is no change without change and I want to keep reaching new heights. I'm not really sure what is in store for me in 2016 but I know the year will be what I make of it. And the same with go for you, 2016 is a time to start new and try some new things. The world is at your finger tips, you just have to take a chance and make the first steps. You can do anything if you work hard enough for it. Don't forget that!
We were blessed with so many things this year like being in Runner's World, being able to travel to many places and even having the Surgeon General tweet about us. It's a great thing but being able to just LIVE life is a blessing, especially being able to live the healthy active life we have now. I never would have thought this would ever be my life. I've been maintaining my weight now for almost 3 years and it's been a struggle. Keeping the weight off is scarier/harder than losing the weight and I'm just glad that I'm winning the good fight.
Now it's time to end 2015 and move into the new year. Don't forget to watch Willie and I on the NBC Today Show on Monday, January 4, 2016!
Be safe tonight. Drink responsibly. Don't drink and drive. Happy New Year!