Happy Spring! April showers bring May flowers, so that you might be heading out for some runs in the rain. Running in the rain is something I once hated, but after learning how to prepare for running in the rain, it's not an obstacle anymore. Will I always choose to go running in the rain? No. But if it's safe, running in the rain will always be on the table.  
The funny thing is I never think twice about running a race in the rain, but when it comes to training runs, there always seems to be a mental block. I wouldn't go for a long run in the rain, but those short runs might lift your spirits.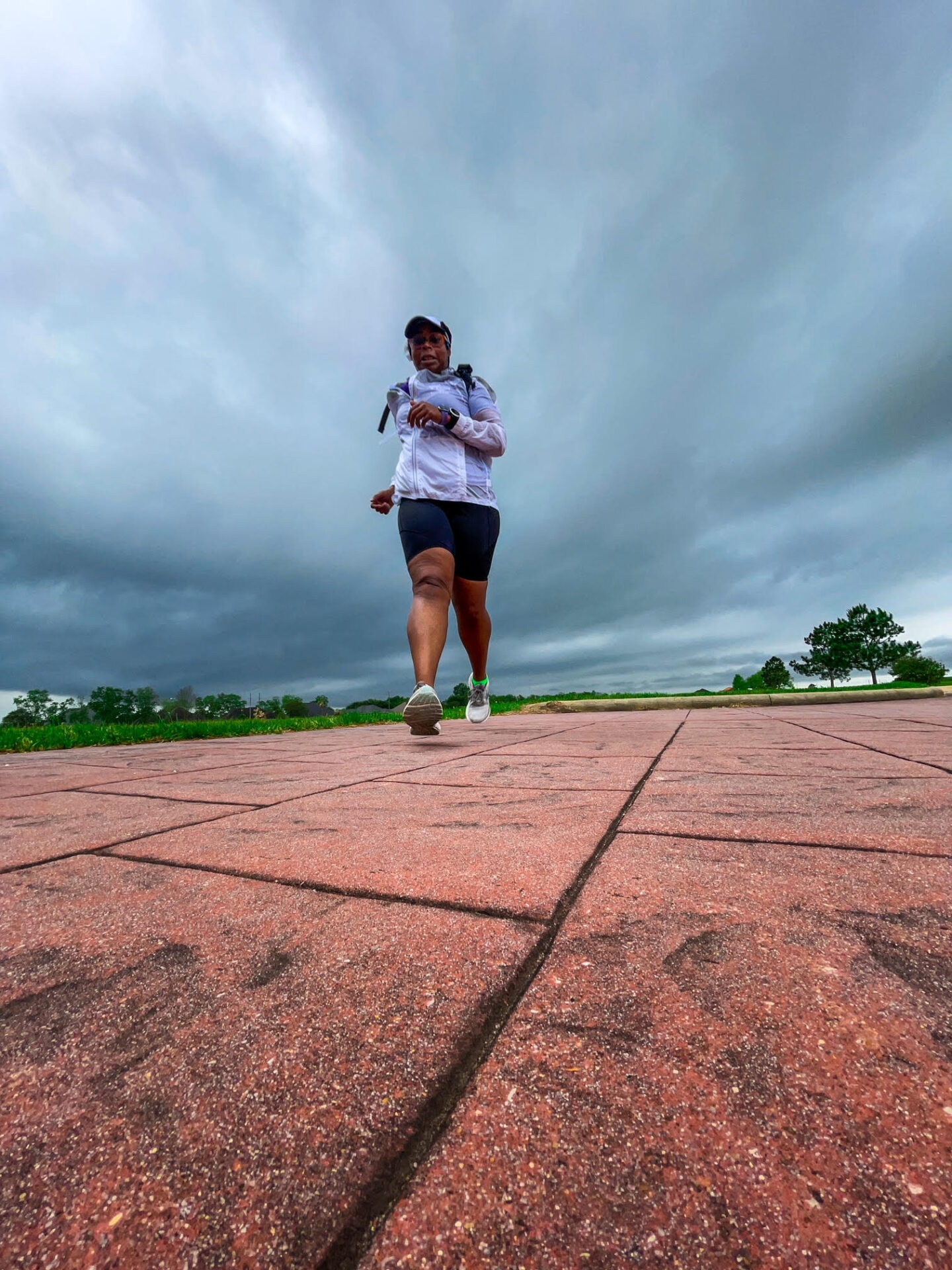 Here are my tips for running in the rain:
Invest in an excellent RUNNING rain jacket. Not just any rain jacket will do when it comes to running. A running jacket should have air flaps so that air circulates through the coat. Also, it would be best to decide whether to hood or not. I choose not to hood unless it's a torrential downpour, and I would only run in that situation in a race situation. Plenty of excellent rain run jackets are from low to high. If you are in this situation often, investing in a high-end rain jacket that will last through the years would be best.  

Skip the visor and run with a hat. Everyone has a favorite cap, and rain is another opportunity for you to wear it. I wear the thinnest hat possible so the rain isn't absorbed into the hat and sits like a puddle on my head. I highly recommend the Headsweats Race hat or the Sprints O.G Hat.  
Have a good pair of running socks that fit you well. The state of your toes can make or break your run. Waterproof socks are on the market, but I've never worn any. My go-to running socks in the rain are Feetures because they fit snugly and are lightweight. But that leads me to my next point about your feet.
Vaseline, Aquaphor, or something like those to lubricate your feet is a must. The wetness will cause friction and chaffing, but if you add this extra layer, you will survive your run with minimum damage to your feet. I also tell people to keep this on hand and use as much of it as possible. It's running in the rain, a lifesaver. You will not regret it.

Know your route when going out in the rain. This a rule for any run, but it's more important when running in the rain. Running safety is amplified in complicated running situations. You'll already be focused on road or trail conditions, so not thinking about your route is critical.  

Go music free so you can be aware of your surroundings. Besides, who wants to mess up their tech for a little jaunt in the rain?  

Wear your reflective clothing and lights when going on a rainy run. Rain conditions are hazardous, so you want to be seen by cars and others around you. Sometimes it's hard to see other vehicles when driving in the rain, so it might be more challenging for a car to see you on the road. It's better to be safe than sorry in this situation. It's just one less thing to think about when you're training.
My running in the rain gear suggestions:

*All links are affiliate links.
Also, if you get your running shoes wet, you should invest in a shoe dryer. I decided to purchase a shoe dryer not for running in the rain but for those long humid summer runs. Everything is drenched, and keeping your expensive running shoes from turning into a moldy mess is essential. The shoe dryer is a sure way to take care of your shoes without ruining them.  
Don't want to invest in a shoe dryer? The best way to dry your running shoes is to take the insoles out and your shoes with towels or newspaper. I prefer a newspaper, but newspapers aren't readily available anymore. Change the towels every hour to ensure your shoes aren't smelly and moldy. Do this immediately when you get home from your rainy run.  
Those are my tips for running in the rain.  
Are you a person who likes to run in the rain? Do you have any more suggestions to add to my list? Comment below what rain running tips you might have.