It's time to recap the books I read during June. I had a great month of reading, mainly due to Tot having an hour of swimming lessons every day which I took as my reading time. I am a mystery and murder book gal, but I decided to read some lighter reads for summer. I read many books because I like to borrow books from the library, and all my holds came back.  Basically, I read my entire summer TBR list in the month of June.  I am currently taking book recommendations to finish off my summer reading books.  Please comment on this post on books you are reading this summer.
Let's get started on the books I read in June.
The Summer I Turned Pretty, It's Not Summer Without You, and We'll Always Have Summer by Jenny Han. I could go through each book individually, but I think you need to evaluate the series as a whole. I wanted to read the series before watching the Amazon series. This is a YA (young adult) book, so keep that in mind while reading. The story revolves around two families who always spend the summer together. But it's mainly about Belly (Isabel), Jeremiah, and Conrad and the summers they spend together on Cousins beach. The books follow a love triangle between Belly and brothers Jeremiah and Conrad.  
I started watching the series on Amazon, and I don't feel it necessary to read the books before watching because it seems to be a lot different. The books didn't profoundly move me, but the story was interesting, but the last book tanked the whole series. I had to take myself back to being a teen, and I don't think I would have been wowed by these books even then. But I did love reading about the relationships people had, from the parents to kids, and how they all interacted. It was a moving story in that aspect. This is more of a character-driven tale versus it being a plot-based book. I think the show will end besting the books due to having more creative license to develop the characters deeper.
Rating: 3 stars out of 5
Love and Other Words by Christina Lauren. This book is probably the book I wanted to read most this summer, so maybe I did expect a lot from this book. Love and Other Words is a friends-to-lovers story about Macy and Elliot, who were best friends and first loves in high school, but some mysterious event derailed they're happily ever after. After 11 years of not speaking, Macy and Elliot reconnect, and their story starts all over again, but they have to unravel the past to ensure they can have a future.  
This book is told from alternating perspectives from then and now, which seems to be a popular format for romance books these days. I found this book exciting, and the chemistry between the two characters was undeniable, even with a slow burn.  
Rating: 4.2 stars out of 5
I know I'm late to the game with this book. I started reading this book in May but couldn't get through it. The book came back through my library cue again, so I tried it. Where the Crawdads Sing by Delia Owen is a story about a Kya who has a tortured history of family abuse and is somehow left to find her way in the marsh of coastal North Carolina on her own. This story was beautifully told and centered around being a strong woman and caring for yourself. There is a little (and I mean little) bit of a love story, a little bit of mystery, but more of a story about staying true to yourself to overcome a harsh past.  
Rating: 4.5 stars out of 5
Beach Read by Emily Henry. Isn't this the book that started all of Emily Henry's popularity?  Beach Read was the last book I read in June, and the book was my least favorite Emily Henry book I read this month. I would have loved it more if it was the first Emily Henry book I read. If you haven't read Emily Henry, this is the book to start your reading journey.  Beach Read is an enemy to lovers book and about starting over in life to find your happiness. It's an easy read. Although I thought the two main characters lacked a bit of lover chemistry, it was great to see a friendship grow between them. Please read it for yourself and tell me what you think. I had mixed emotions about this book. All in all, it was an easy and fun read.
Rating: 3 stars out of 5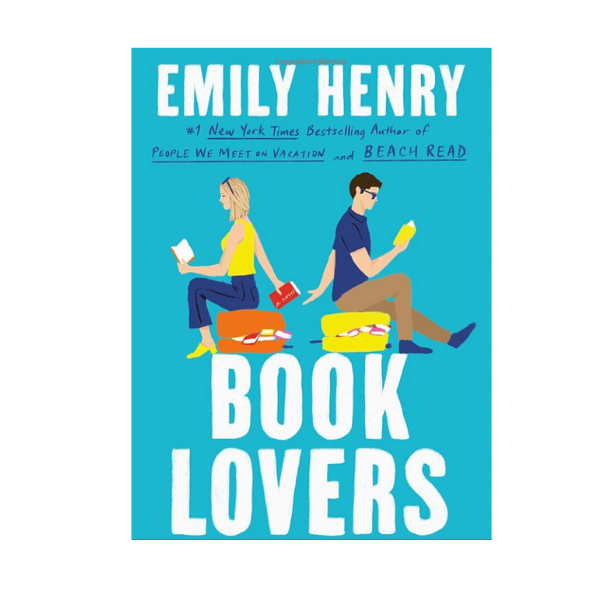 Books Lovers by Emily Henry is about two people in the publishing industry with a hard-core reputation for being tough. But mostly, Book Lovers is a story about sisterhood and family and the sacrifices we sometimes have to make to keep a family going. Yes, there is a romantic element, and the chemistry between those two characters is fantastic, but I enjoyed their struggles with their families versus their happiness. The family struggles are something I could relate to throughout the story. I also loved how they had the same family struggle but handled it differently, which made the story more interesting and added a bit of depth to the story.  
People We Meet on Vacation by Emily Henry is a book I was excited about so much in mind that I just had to read it. It was a long wait to get this book from the library. I LOVED this story between Alex and Poppy. People We Meet on Vacation is a slow-burn romance where we are trying to find the reason why Alex and Poppy stopped talking for several years in their life. The two characters are from the same town in Ohio but didn't meet until going off to college, where they became accidental friends. Their friendship blossoms and they bond over the vacations they take each other once a year. The storytelling in this book kept me hooked until the last page. I know, it sounds like every other romance novel out there, but I'm telling you, this book is good. People We Meet on Vacation is simply a book that will make you feel good. Trust me, if you haven't read it, read it now.
Rating: 5 stars out of 5
Please leave your suggestions on books I should read next.