Lose It! has been the main phone app we have used to lose weight. This app is not only a way for individuals to keep track of their diet and exercises routines but this is the app we used in our weight loss journey.  An August 2010 study by Kaiser Permanente shows people who logged their food in a food diary were more likely to lose weight AND keep it off!
"This study shows that if people use quality weight management websites consistently, and if they stick with their program, they are more likely to keep their weight off," said study co-author Victor J. Stevens, PhD, co-author and senior investigator at the Kaiser Permanente Center for Health Research. "Keeping weight off is even more difficult than losing it in the first place, so the fact that so many people (in the study) were able to maintain a good portion of their weight loss is very encouraging to us."
How LoseIt! Works:
Let's start with the food and exercise portion. Lose It! has an excellent and easy way to track your routines. When you log into Lose It, you have to input your weight, height, age and current level of fitness into the application. This information gives Lose It a basis as to where you are starting from and how many calories you'll need to effectively lose or maintain your weight. After all the information is entered, Lose It asks what your weight loss goal (an ending weight number) you want to lose and the frequency of how much you will lose per week. Two pounds a week is the maximum and safest that Lose it will calculate per week.  Many people asked us how we knew how many calories to eat each day; this is how we knew!  The math is done for you so it's easy!
Once given all of that information, Lose It will give you a timetable of how long it will take you to get to your goal weight. This is the bit of information that intrigued me. I wanted to know how long it was going to take me to drop my original goal weight of 200 pounds. Now you have your timeline, what do you do now? Well, with Lose It, you immediately get a calorie budget number. This number tells you that if you don't eat more than the allotted amount of calories a day, then you will lose the 1-2 pounds a week that you want. Here's a little perspective. When I first started out with Lose It, I was allotted 3600 calories. I stayed below that number and I lost weight on a consistent basis. That's it. It's that simple.
The other positive thing about the food tracking is the ease to not only scan barcodes for foods that you may want to eat but also the simple tasks of inputting recipes and custom food or meals. Food tracking is relatively easy with the app and website due to a large database of supermarket foods and restaurants.  This really takes the guess work out of how many calories you're eating.  Always remember everything is not always accurate so do an internet search for food calories or go to a restaurants nutritional information to make sure everything is up-to-date. If you see something is incorrect in the app, you should report it to LoseIt! so they can change the information.
With exercise, you can input your activities based on a general calorie burns for specific exercises with your current weight in mind. You can also input your own exercises to have a more accurate account of how much you actually burn during exercise. FYI: A heart rate monitor really comes in handy while exercising to calculate accurate calorie burn.
Additional Perks: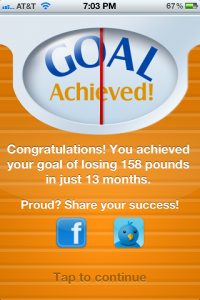 The best part of Lose It was the social aspect and I used it A LOT during my weight loss journey. You can add friends to your Lose It profile and keep yourself accountable by letting your friends follow your journey of losing weight. The social media aspect of Lose It is also helpful. You can connect your account to Twitter and Facebook. I did this to keep myself accountable. Anytime I lost or gained weight, friends on either social media platform saw my results whether it was good or bad. You may want to incorporate this feature to keep yourself accountable as well. Plus, when you add friends you can motivate them along the way and keep them logging their activities.
Also, if you are a chef in the making like Angela, you can input your own recipes and the app with calculate all of the nutritional information for you.  This has really come in handy for Angela because she's always trying new things.  It not only helps keep a record of the recipes but helps with keeping us accountable in our eating habits from home.
At the end of the week, Lose It! provides complete nutritional log and a way to see how well you performed.  And the app is motivational because users can earn badges along the way.  It's the small things that really keep you going and looking forward to earning a badge just might be the thing to kick it up in high gear!
Lose It! logging is also available through the web which comes in handy when the phone goes dead!
Important things to remember about logging food and exercise:
If you want to get the full benefits you must keep logging every day at every meal.  Don't wait until after you've eaten to log your meals because that's defeating the purpose. Log your food before you eat because you're more aware of what you're eating and you won't forget to log when you're done.  This way you are getting a good look at what you're consuming.  Also, log your exercise immediately after you're done so you don't forget and you can reveal in your accomplishments.

Log everyday! This will only work if you get an accurate representation of every day, week and month! Don't let a day pass that you don't log even if you don't know the exact calorie count at least logging will you give you an idea!
Log everything, even if you ate something that you shouldn't have eaten.  This keeps you accountable and maybe when you see it logged you'll think twice about busting your calorie count again. Plus seeing the nutritional information for something makes it real while just eating it doesn't.
Be honest with your log.  It's great to have an accountability partner, but the person who you are most accountable to is yourself!  If you know that you ate two servings of chicken, don't log one serving.  You're only cheating yourself and that won't help you along the way. The same goes with your exercise   Be realistic about how much you excericse and the intensity level.  The best way to get a good estimate on your calorie burn is to get some form of heart rate monitor. (We will have a post of recommendations for heart rate monitors soon!)
Invest in a food scale to get an accurate measurement of your food portions.  We measure everything out, even now.  A food scale helps us make sure our portions are correct. Invest in a good set of measuring cups and spoons too!  Those tools are just as important to weight loss success.
Other food/exercise logging apps: