"Disclaimer: I received Ultima Beauty Collagen + Electrolytes to review as part of being a BibRave Ambassador. Learn more about becoming a BibRave Ambassador, and check out BibRave.com to review, find, and write race reviews!"
It's hard for me to take my daily supplements; anything to make it easier to get them in is A++ in my book. Another problem I have during the winter season is staying hydrated. The cooler, less humid temps have me reaching for my water bottle less often. Having some flavored water beverages is a big win to keep me hydrated. Dehydration during the winter is a real thing. Plus, I struggle with having brittle nails, so anything that improves my overall wellness is appreciated.
In comes Ultima Beauty Collagen + Electrolytes to my life. This supplement contains zero sugar, zero carbs, and 9.5g collagen. The Ultima Beauty Collagen + Electrolytes comes in two flavors: Strawberry kiwi and mango pineapple. Each serving contains electrolytes to hydrate the skin and collagen to help strengthen hair, skin, and nails.  
What is collagen?
I know the collagen talk has been around for a few years, but I've added it to my daily lifestyle. Honestly, I knew very little about collagen, so I decided to learn a bit about it. I've learned that collagen provides structural support for the extracellular space of connective tissues. Collagen gives structure, strength, and elasticity to our skin.  Ultima Beauty contains Type I and Type III collagen.  Type I collagen provides structure to your skin, bones, tendons, and ligaments, while Type III is found in muscles, arteries, and organs. Also, I'm in the 40+ age crowd, and as we grow older our bodies reduce the production of collagen. Having healthy skin, hair, and nails is very important. I'm not a high-maintenance girl, but keeping my body's foundation in check is very important. But I always need to remember to take my supplements consistently.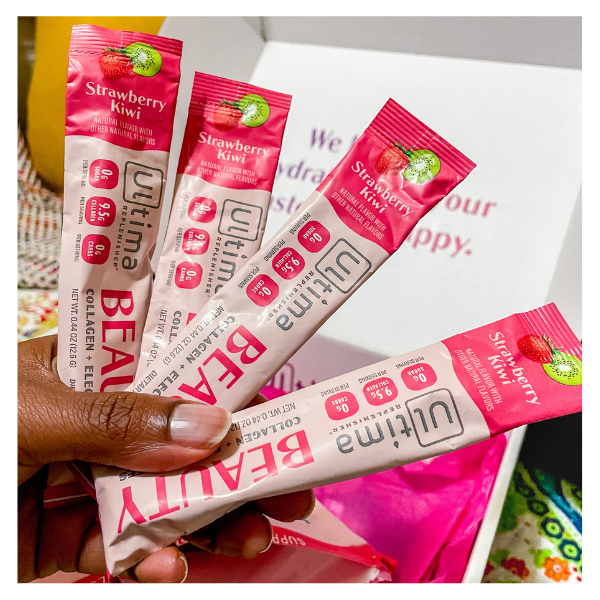 Having a portable, no need to measure serving is what I love about the Beauty Collagen + Electrolytes. It's perfect for taking on the go and/or setting it aside for me to drink first thing in the morning. It comes in a pack of 15 serving sticks which are premeasured and already packaged. It's perfect any time of the day, but I'm most productive in the morning, so it's easy to add drinking this into my morning routine.  
Replenishing electrolytes in your body is essential for hydration. You only need one serving daily, which mixes easily with 8-12 fl. oz of water. I use more water because I need extra hydration before drinking my coffee.  That's my rule.  I'm not allowed to have coffee if I don't drink water.  This is an extra incentive for me to get hydrated in the morning, plus I'm helping my hair, skin, and nails.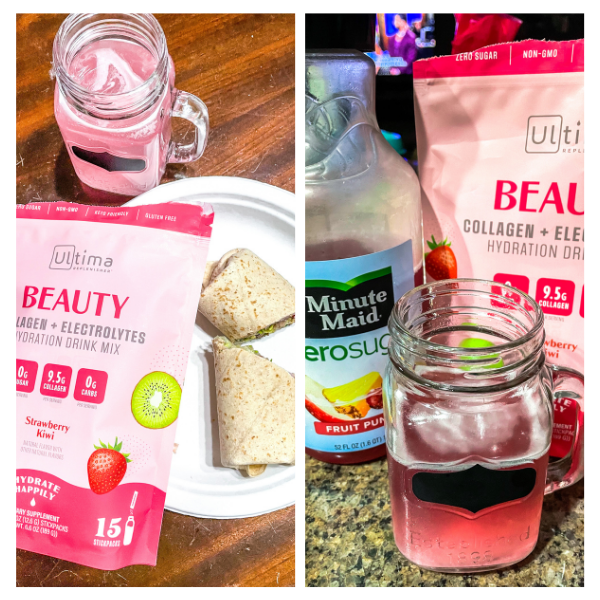 Fighting dehydration during winter is hard for me, even when I'm working out. According to Eating Well, "Electrolytes do many important things in your body. They help keep the amount of water in your body balanced, maintain pH levels and help move nutrients in and out of cells. Electrolytes also help muscles, nerves, and organs work properly."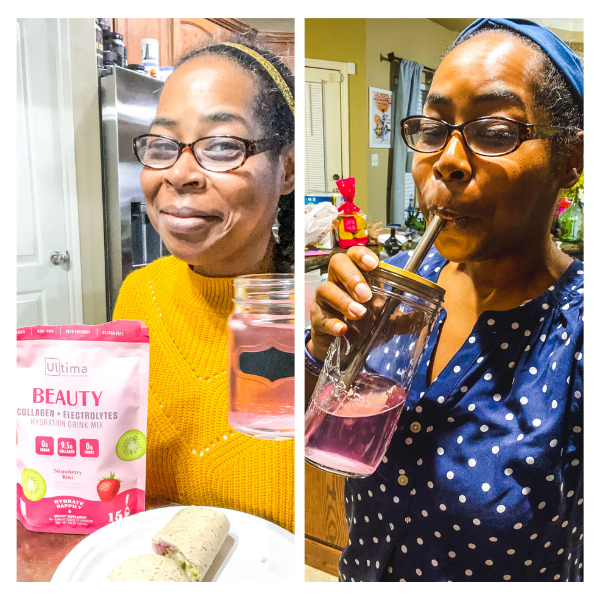 I tried the strawberry kiwi flavor, and I have no complaints. It's a not-to-sweet taste, and it's subtle. It's perfect for adding to other drinks, too. I added the stick to my morning smoothie. I also liked mixing seltzer water with my handheld frother and topping it with fruit juice. I am on the journey to maintaining healthy hair, skin, and nails, and adding Ultima Beauty Collagen + Electrolytes to my daily routine will help me improve my dry skin and nail strength wellness. 
I highly recommend this Ultima Beauty Collagen + Electrolytes, especially if you need help forgetting to take your supplements. Each pack has 15 servings for $24.99! If you sign up for the e-mails on the site, you can get 20% off your first purchase.  This might seem a bit pricey at first glance, but you have to look at the product as a whole.  Ultima provides you with two products in one with electrolytes and collagen.  Plus, it's a no-think product because it's grab-and-go.  That's worth the price!
Let's recap how Ultima Beauty Collagen + Electrolytes will enhance your life:
This product is grab-and-go, meaning you can take it anywhere without measuring or spilling it.
Ultima Beauty is zero sugar, zero carbs, and 9.5g of collagen.
Collagen maintains healthy hair, skin, and nails.
This is another way to get in that extra glass of water throughout the day!
HEALTHY HAIR, SKIN, and NAILS.  (Yes, I repeated it.)
Please let me know in the comments how you maintain your healthy hair, skin, and nails AND if you decide to try Ultima Beauty, let me know what you think!